The K3 from Oukitel impresses at first look with a noble design inspired by the Sony Xperia XZ Premium, of course with a different hardware combination and for a much lower price.
The K3 is set against the Sony Xperia by Oukitel and it sounds like a plan. Maybe this articel can help to build your own opinion.
Lets see the specs:

CPU: MTK6750T
Cores: 1.5GHz,Octa Core
RAM: 4GB RAM
ROM: 64GB
External Memory: TF card up to 64GB (not included)

OS: Android 7.0

Screen type: 2.5D Arc Screen
Screen size: 5.5 inch
Screen resolution: 1920 x 1080 (FHD)
Picture format: BMP,GIF,JPEG,JPG,PNG
Music format: 3GP,AAC,AMR,FLAC,MP3,MP4,OGG
Video format: 3GP,AVI,MP4

Camera type: Dual Rear Cameras + Dual Front Cameras
Back-camera: 13.0MP + 0.3MP ( SW 16.0MP + 2.0MP )
Front camera: 13.0MP + 0.3MP ( SW 16.0MP + 2.0MP )
Video recording: Yes

Wireless Connectivity: 3G,4G,A-GPS,Bluetooth,GPS,GSM,WiFi
WIFI: 802.11a/b/g/n wireless internet
Network type: FDD-LTE,GSM,WCDMA
2G: GSM 1800MHz,GSM 1900MHz,GSM 850MHz,GSM 900MHz
3G: WCDMA B1 2100MHz,WCDMA B8 900MHz
4G LTE: FDD B1 2100MHz,FDD B20 800MHz,FDD B3 1800MHz,FDD B7 2600MHz,FDD B8 900MHz

I/O Interface: 1 x Micro SIM Card Slot,1 x Nano SIM Card Slot,3.5mm Audio Out Port,Micophone,TF/Micro SD Card Slot,Type-C
Bluetooth Version: V4.1
Sensor: Ambient Light Sensor,Gravity Sensor
Google Play Store: Yes
OTG : Yes
Additional Features: 3G,4G,Alarm,Bluetooth,Browser,Calculator,Calendar, Camera,Fingerprint recognition,Fingerprint Unlocking,MP3,MP4,WiFi

Battery Capacity (mAh): 6000mAh
Battery Type: Lithium-ion Polymer Battery,Non-removable

Product size: 15.50 x 7.70 x 1.03 cm / 6.1 x 3.03 x 0.41 inches
Product weight: 0.2510 kg



> The Machine


The hardware has the regular Mediatek Power of the MTK6750T octacore platform. The CPU performes with 4GB RAM and 64 GB emmc without any problem. All apps are snappy and the full hd 5.5 inch full HD screen is sharp with enough brightness to use it outside in the daylight. The curved screen has a warm colour temperature, good for videos. Heat is no problem, the K3 gets under stress only a little warm on the upper backside.

Wlan wide range and it is fast for your downloads. The fingerprint sensor is working fine, if you like it. With GPS I had no problems with google maps.



> Audio


The audio loudness is good on speaker and headphones. In case the k3 will be not loud enough, you can improve it over the MTK Engineer Tools. The speaker produces a balanced frequency spectrum, a clear sound with enough lower frequencies for a pleasant result. Over earphones you get of course a much better sound experience. I tested it with the xiaomi earphone hybrids. As always, do not use the software equalizer or enhancer of android, you will get only a bad sound experience.

Besides the phone Oukitel will provide you with a few extras out of the box.
The overview:
Cell Phone: 1
Power Adapter: 1
USB Cable: 1
Back Case : 1
English Manual : 1



> Unboxing Video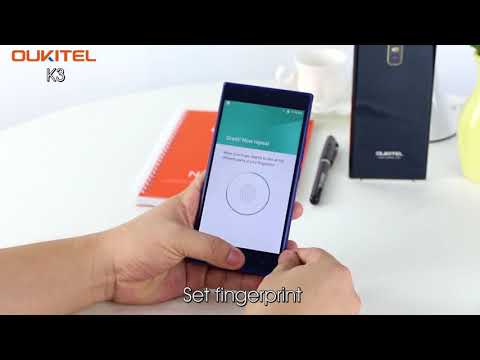 The charging is supported by a 9V 2A Power Adapter. That is important, because you need it for fast loader experience. The K3 needs about 2 hours for a full reload up to 6000mAh. You have then battery for 2 days with average use.



> Design


A nice back case will cover the very beautiful backside of the K3: This for sure part of the noble impression. Okay, you have to decide between a nice looking protection and the piano black finish. Not an easy decision for me, but thats only a half of the design. The rounded gold shimmering metal frame looks close to perfect, stands for the second eye catcher.
The design is just one big point of this phone, the roundings, the buttons, the screen, the metal part - everthing fits together. This the "King Noble" from Oukitel for all who have the focus not only on function.
Design at its best - of course always a matter of taste.

With 251g is the K3 not a lightweight, but it will a an honor to carry the "King Noble", when you lke the design. The size of the K3 is for sure not a small one, maybe not a choice for smaller hands or users with small pockets.
> The Accu Power Contest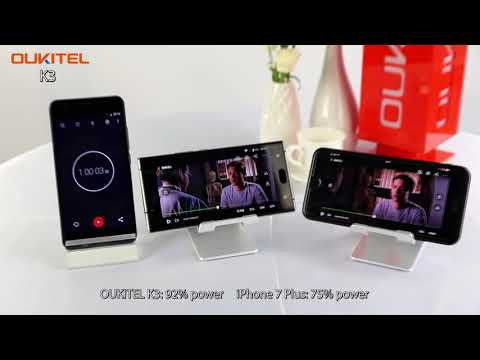 The K3 has another big point 4 Camera, 2 in front and 2 for the main camera. The cameras are working very good. I can't say that I understand, what the second camera for each main camera do, but anyway the results are good.



> Android


The K3 comes with standard android 7 with standard theme and a dark background wallpaper.
All standard apps are inside the firmware, no extra apps, nothing special, but I found so far no issues. Regular Oukitel will update their Firmware until all is working fine.



> Performance


Antutu performance Test passes complete with finally 42360 Antutu points and the Epic Citadel benchmark as gaming indicator show up on full hd in ultra high qualitity with an average result of 37.0 fps.
Geekbench has noted a single core with 648 and the final mulicore score goes up to 2650.
The firmware performs complete stable.
Gaming is possible, but don't forget the MT6750T is not a high end cpu, but it should work in most case and if not, decrease the resolution a bit. For all office and internet applications the K3 will not make any trouble.


> Resume
This mobile phone is for all who like somethin special, not the standard design. Finally I could not compare it with sony xperia. You have to build your own opinion.
For sure the K3 is my favorite phone at the moment and I use in daily use without any strange behavior. Everything works fine - King Noble is a good worker. :-)

+++ outstanding design with perfect roundings in metal and piano finish
++ battery strengh for 2 days with average use
+++ low price (139USD), by example from

Gearbest


++ new concept with 2x2 Cameras
-- no LED notification light

Thanks to Oukitel for providing me with the K3.

Now you can get the K3 on

Amazon Germany

.