Q-BOX 4K Amlogic S905 TV Box Android 5.1 2G/16G 2.4G+5G Dual Band WIFI 1000M LAN Bluetooth4.0 (KODI Preinstalled)
Hi folks in this review i will be looking at the Q Box sent to me from
Gearbest
(Thanks to the guys at gearbest for there prompt service)The device arrived in just under one week via DHL with £4.33 customs to pay.
The Q Box comes with the Amlogic S905 2.0GHz processer ,There is two variants of the Q Box the 2G/8G & 2G/16G, Both have Dual band wifi 2.4GHz / 5GHz & Bluetooth 4.0 The device in this review is for the
2GB/16GB Q Box
My first thoughts on this are wow i love this thing.I cant beleave how cheap it is at just under£40 a real bargain IMO,, nice looking ,fast smooth UI & the stock firmware is not too bad at all for a starting firmware.
Q Box LED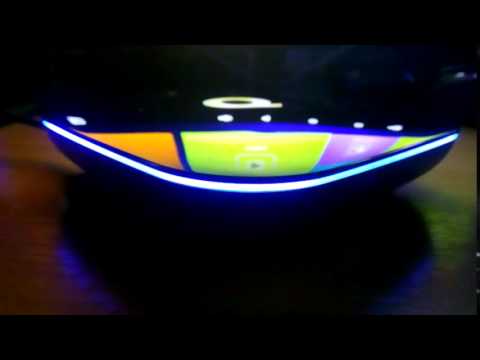 Main Features:
●Fully Rooted
● Comes with a RJ45 jack for 10M / 100M / 1000M Ethernet which provides a strong network extension.
● True 4K x 2K resolution which delivers best audio and video quality for you.
● Powerful 2.0GHz Cortex-A53 quad core CPU: Stable and reliable.
● Android 5.1: Rapid and stable, gives you access to over 800,000 apps including Facebook, Youtube, Picasa and more.
● Professional H.265 video decoding technology and 2.4G + 5.8G WiFi, offering a more stable WiFi signal to enjoy a higher quality video experience.
● 2GB DDR3 + 16GB EMMC, 32GB maximum extended capacity gives you more space to download your favorite apps and caches to browse websites, play games, run apps, watch movies more smoothly.
● HDMI 2.0 connector: You can go directly to let your TV and Q-BOX are connected through a HDMI cable and set up your home cinema for the best 4K x 2K Full HD multimedia experience.
● 2 x USB host ports, Connect with your mouse and keyboard to help you operate more convenient.
● Infrared remote control let you enjoy your wonderful life which the wireless brings to you.
● HDMI CEC Use your normal TV remote to control your tv box (If your tv supports it)
Internal Photos
As you can see in this photo there is a Heat sink, its only small but doing a great job as iv not came across any over heating issues.
Device
The Q Box is A cool looking Tv box with its Ribbon of LED light that goes all around the top edge of the box that has 3 colors to choose from baby blue,dark blue & green .
The boot time is around 25 seconds so its quite nippy,There is a bottom & top status bar, Whitch i always like to see.My Q Box came fully rooted out of the box too so no messing about trying to root it.
Iv been playing around with this Q Box for over a week now & i have to say im more than impressed by it everything seems to run so well on,For an out of the box tv box experience This thing is pretty dam good.
The remote that the Q box comes with is a good remote, its not an airmouse but for a inferred remote its doing a great job.The only way to power down the Q box is with the button on the remote as there's no power button on the device its self.
Once booted up it takes you to the home screen shown below.
Home Screen
App Draw
About Tab
Kodi
The Q box comes with Kodi 16.0 & on the first run you get the choice to install the preset addons or a clean blank kodi.This is good to see that you do get the choice of the addons or not,The kodi loading time is also fast.
Games
Iv tested both beach buggy blitz & Asphalt 8, Both played perfect with no crashes or lag even with the graphics set to high,The game loading time is very fast.Also something to note the Q box has not over heated once even though it only has a small heatsink.Iv tested both the Tronsmart Mars G01 gamepad & my ps3 sixaxis controller Both worked fine & no bugs with the sixaxis gamepad ether.
Misc
Logitech c270 webcam works fine
External non powered 1TB samsung HD works
Tronsmart Mars G01 Gamepad works
Sixaxis Ps3 controller works
32GB works + my 64GB scandisk Extreme works
128GB USB Stick works
HDMI CEC works
Google play store NOT working
OTT updates NOT working
Wifi & Ethernet
The wifi on the Q box is strong its finding my home network & one another close by network im getting full signal strenth & the download speed is fast enough to stream 1080p & 4k Im finding the wifi & Ethernet quite good.
Wifi
Ap6330 Wifi Chip
Ethernet
Some tech stuff starting with the Antutu bench mark score
Antutu
Antutu Video
CPU Z
Stock Firmware
https://mega.nz/#!IgV10bID!RilT9J6EH...WEzG1ewF-Kzi6E
BootCard Maker
http://chinagadgetsreviews.blogspot....r-english.html
New Stock Firmware 10/06/2016 that fix's the google play store
https://drive.google.com/file/d/0B-o...ZIZ055Wnc/view
Specification:
Type TV Box
Model Q box
GPU GPU: Mali-450
System Android 5.1
CPU Amlogic S905
Core Octa Core 2.0GHz
RAM 2G
ROM 16G
Color Black
Media Supported
Decoder Format: H.265
Video format: 4K
Audio format: AAC,FLAC,MP3,OGG,RM,WMA
Product Details
Bluetooth Bluetooth4.0
Power Supply Charge Adapter
Interface AV,DC Power Port,HDMI,Optical,RJ45,USB2.0
Product size 12.8*12.8*3cm
Whats in the Box
1 x Sunvell Q-BOX TV Box
1 x Power Adapter
1 x HDMI Cable
1 x Remote Control
1 x English Manual
Basic Unboxing Video