Sunvell T9 Android 8.1 TV Box HD Network Media Player Set-top Box RK3328 Bluetooth 4G Memory 32G Android 8.1 USB3.0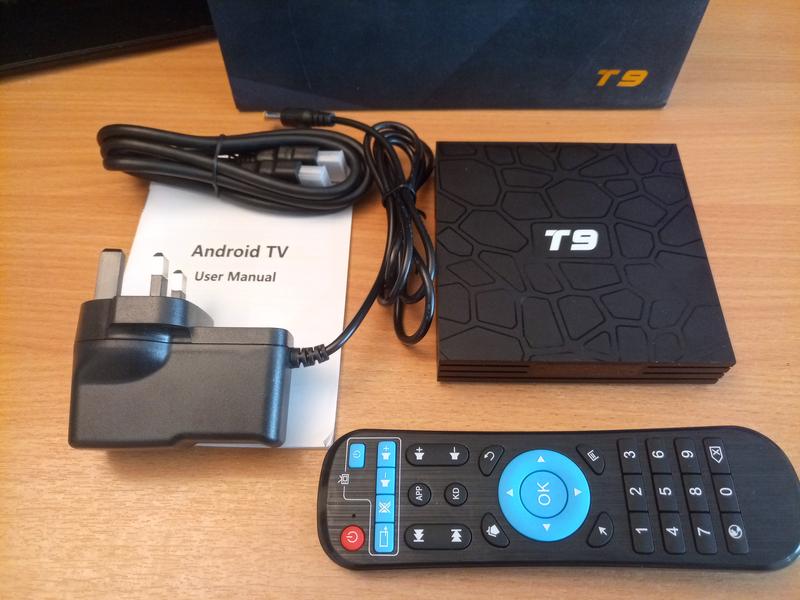 The tv box in this review came direct from the guys over at
Sunvell
who have been building TV box's for a few years now and do a good job of it.
Hi Guys,Another Tv box to take a look at and review,The
Sunvell T9
a Rockchip powered TV box yes i here your alarm bells ringing (Rockchip) arhhh lol lol.The T9 im testing is the 4/32GB version that should be more than enough room for most users,Running Android 8.1 out the box.Theres no top and bottom bars in the UI i should mention too.
Info from webpage
¤ "Android 8.1 Oreo TV Box With Built-in Cortex A53 Quad Core Processor With WiFi Perfect For Home Entertainment. Massive 4GB Ram, 32GB MMC Flash storage make sure the system is running fast and stable, ensure a smooth user experience. The H.265 and VP9-10 Profile-2 decoding provide nice streaming for large files. Best for playing 3D Games and Videos.
¤ T9 comes with a very capable hardware configuration that allows it to play 4K videos even at 60fps smoothly. Powered by RK3328 CPU along with Mali 450MP2 GPU support, the latest Android device provides you a glimpse of the future of television.
¤ USB Host: USB 2, support USB DISK and USB HDD, TF Card: Support TF Card supports up to 32GB. ( Not included), SPDIF: SPDIF optical output, AV: Composite AV output, DOLBY TrueHD and DTS HD: DOLBY TrueHD and DTS HD Bypass through HDMI, Mouse/ Keyboard: Support mouse and keyboard via USB; Support 2.4GHz wireless mouse and keyboard via 2.4GHz USB dongle, Bluetooth keyboard or mouse via Bluetooth. ( Not Included).
¤ HDD file system: FAT16/FAT32/NTFS, 3D: Hardware 3D graphics acceleration, Support Subtitle: SRT/SMI/SUB/SSA/IDX+USB, OSD type of languages: English/French/German/bish/Italian/ etc multilateral languages, Power Supply: DC 5V 2A, Power Consumption.: 10W, Power Type: External Power Adapter, Power Indicator (LED): Power ON Blue, sleep: Red.
¤ Media Supported, Decoder Format: H.265, Video format: 4K,ASF,AVI,DAT,FLV,ISO,MKV,MPEG,MPG,RM,RMVB,TS,VOB ,WMV, Audio format: AAC,AC3,APE,DDP,DTS,FLAC,HD,MP3,OGG,TrueHD,WAV,WMA , Photo Format: BMP,GIF,JPEG,PNG,TIFF, Interface: DC Power Port,HDMI,RJ45,SPDIF,USB2.0, Remote Controller Battery: 2 x AAA Battery ( not included )
Looks and feel
It comes with just the one launcher installed.A tv box launcher (Nova launcher dont work)
The device itself is a very nice looking black tv box at 10.5cm by 10.5cm square with 4 rubber Pads,Lots of venterlation holes on the underside & both sides.Front facing clock 24h or 12h,It has 2 full sized USB ports one USB3 & one USB2,Micro SD card slot that is hidden next to the USB port,HDMI port,Power input,AV port,RJ45 port & a Spdf port.The IR remote has good range & works ok (Air mouse is better)There is a recovery button hidden behind the AV hole on the rear.
Front of the T9 is the clock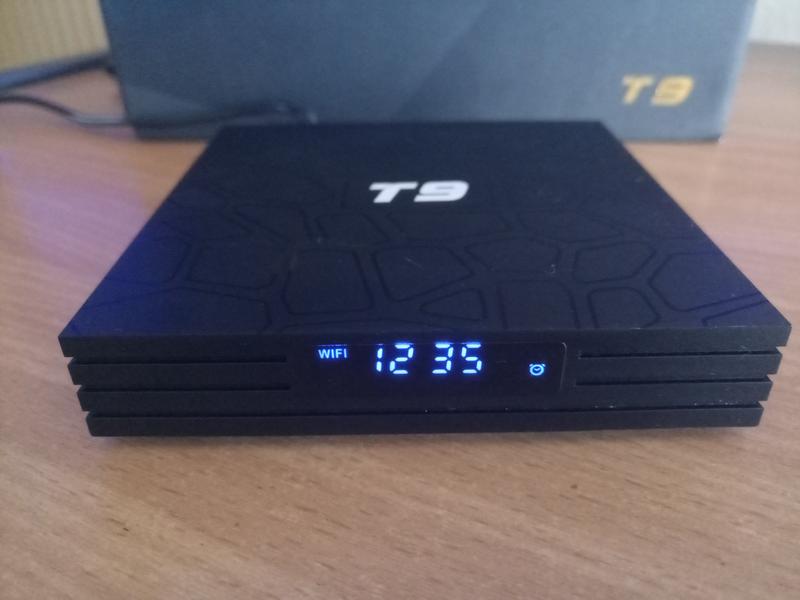 Right hand side is nothing but venterlation holes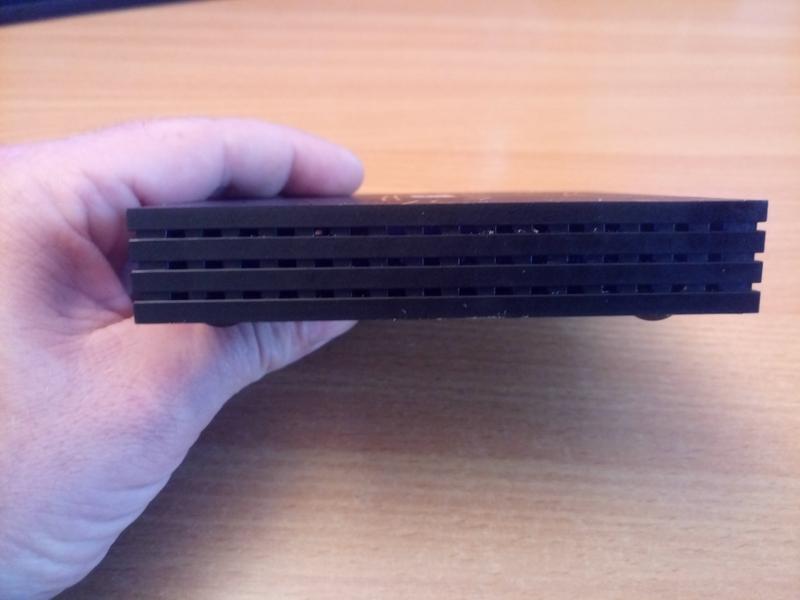 Left hand side is the USB2,USB3 & SD Cart slot along with more venterlation holes.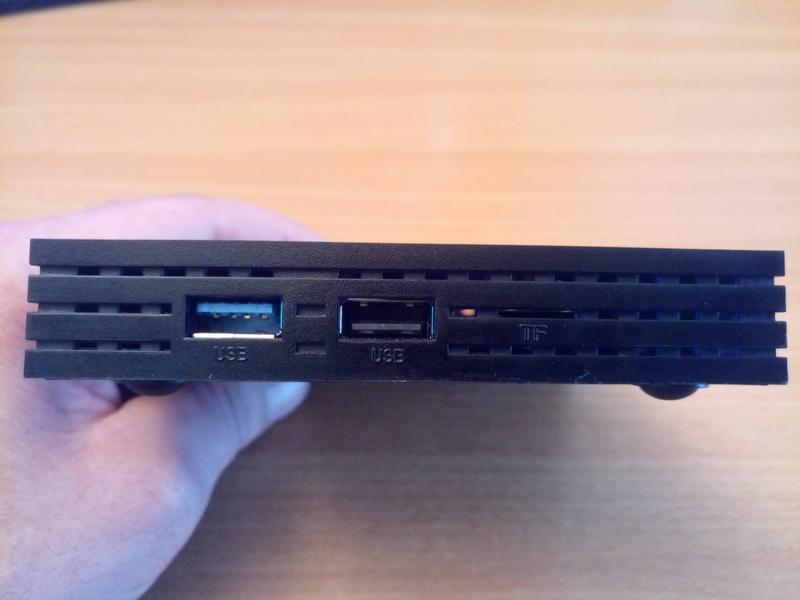 Rear is the SPDF,AV,LAN,HDMI & Power port Not forgetting the hidden recovery button behind the AV hole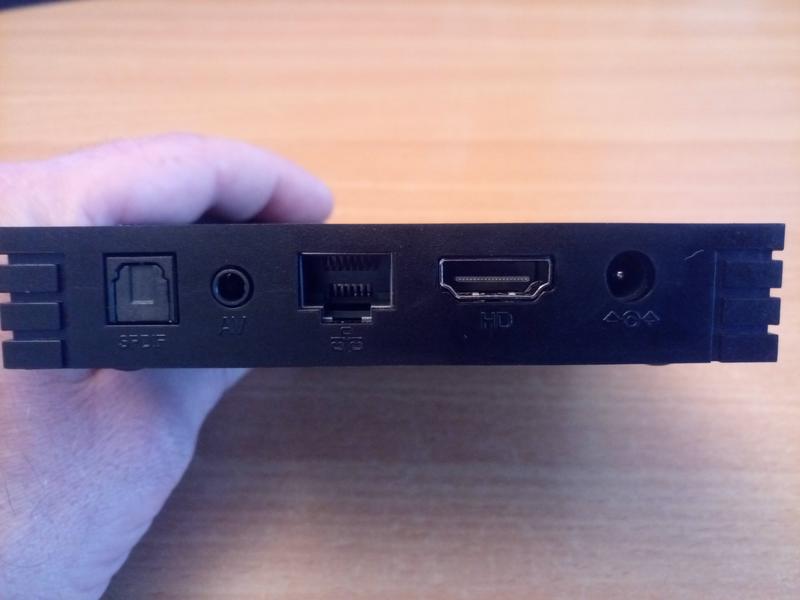 Underside plenty of the venterlation holes again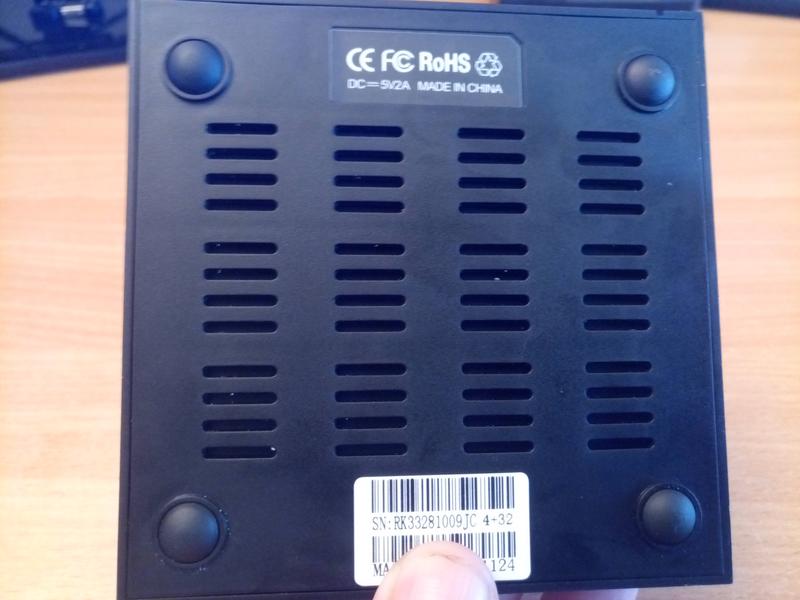 The T9 is very easy to take apart,Just remove the 4 rubber pads and undo the 4 screws on the bottom.
Some internal photos
Bottom cover removed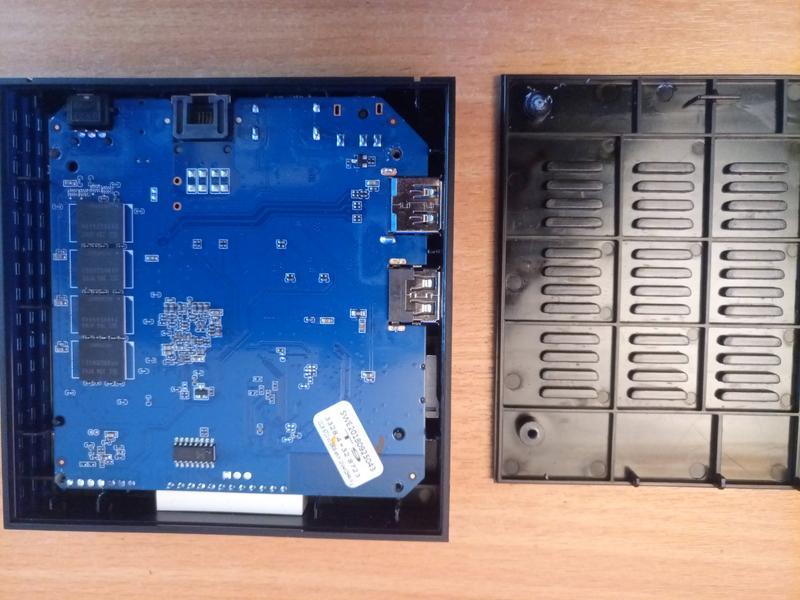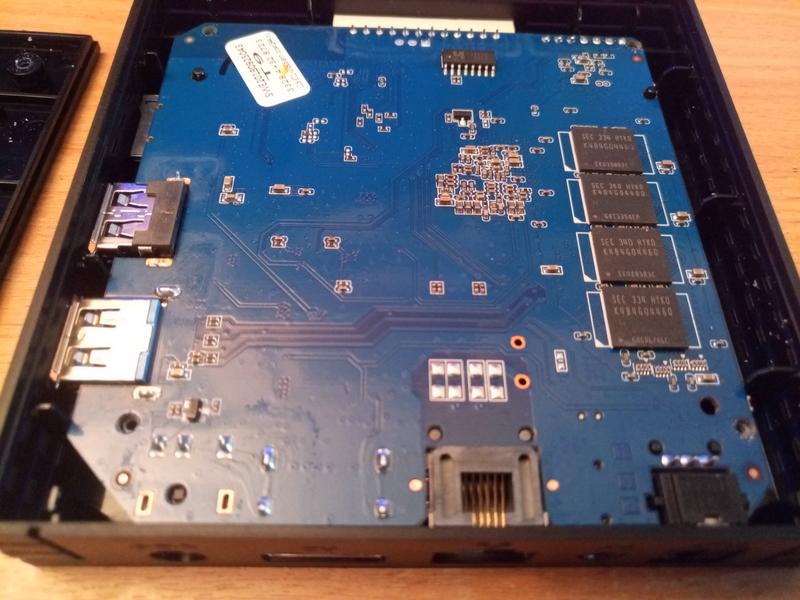 No screws or clips hold in the PCB, just lift out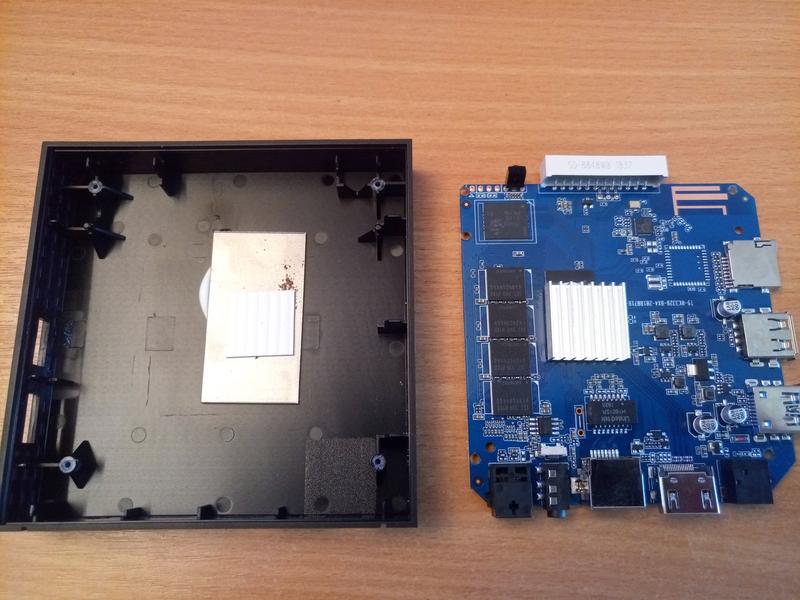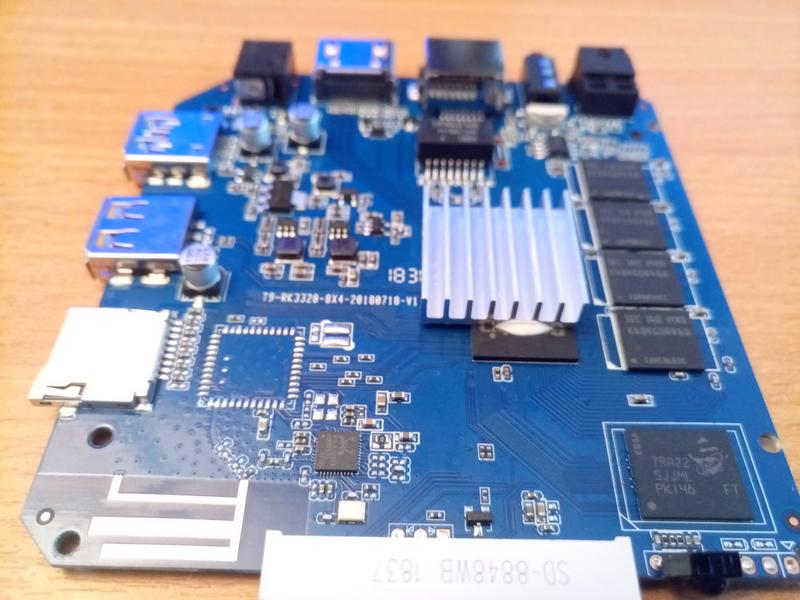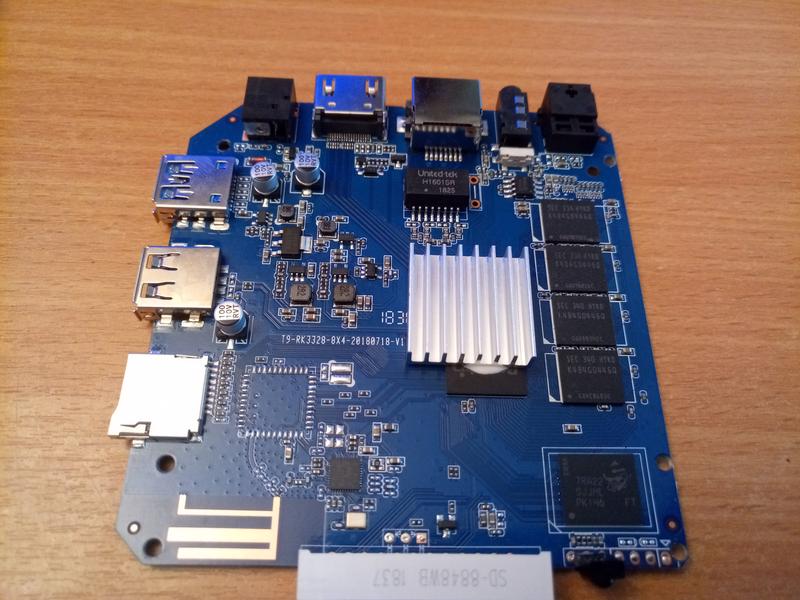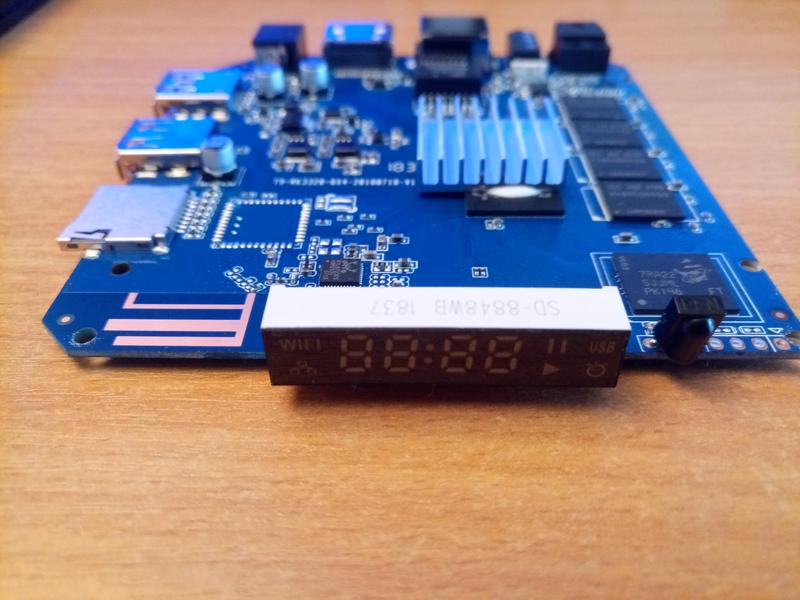 Ports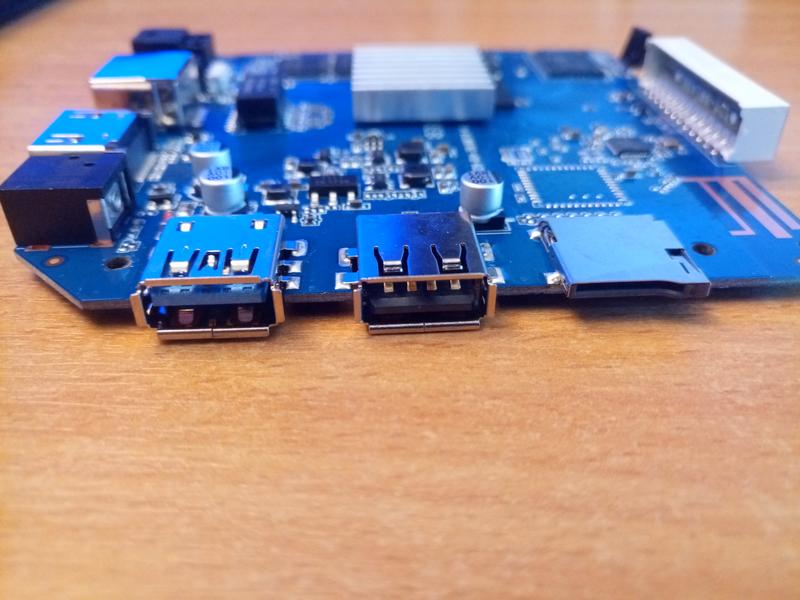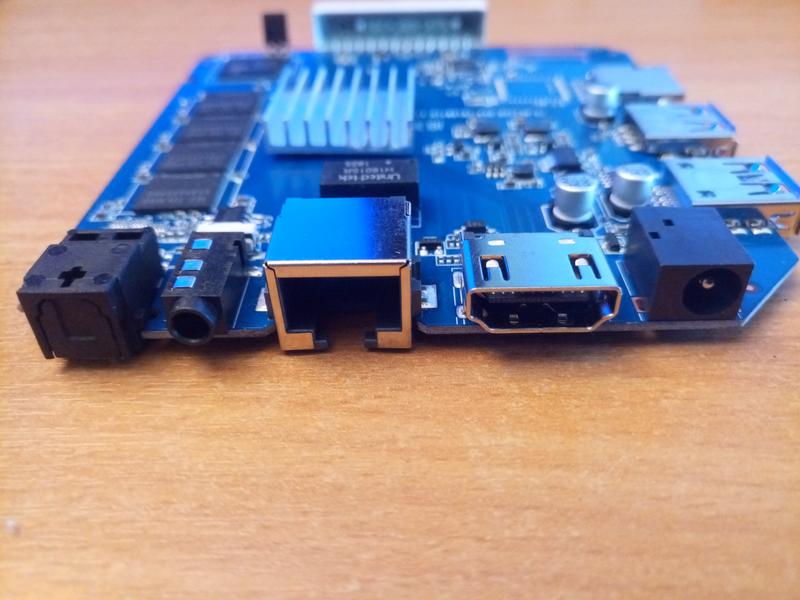 Hidden Recovery button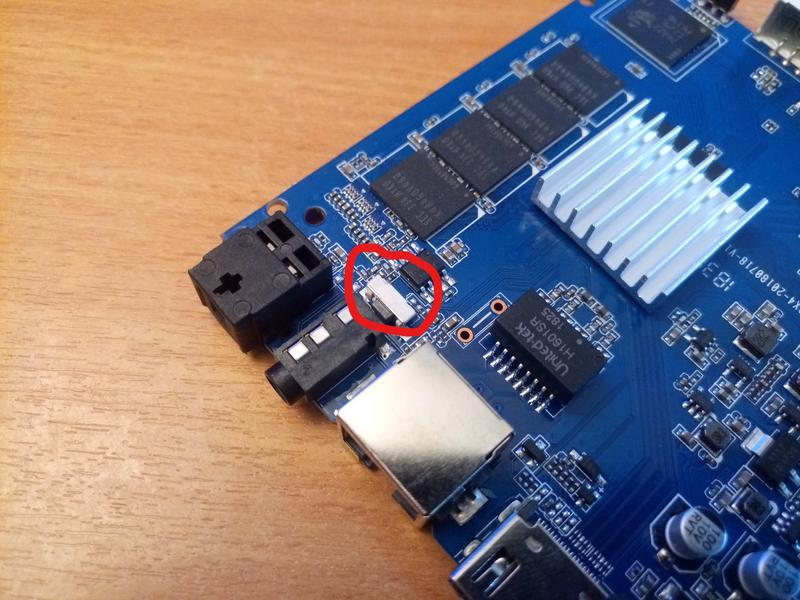 Right then so lets have a tinker,the device takes around 50 seconds to boot up to the home screem (Shown below)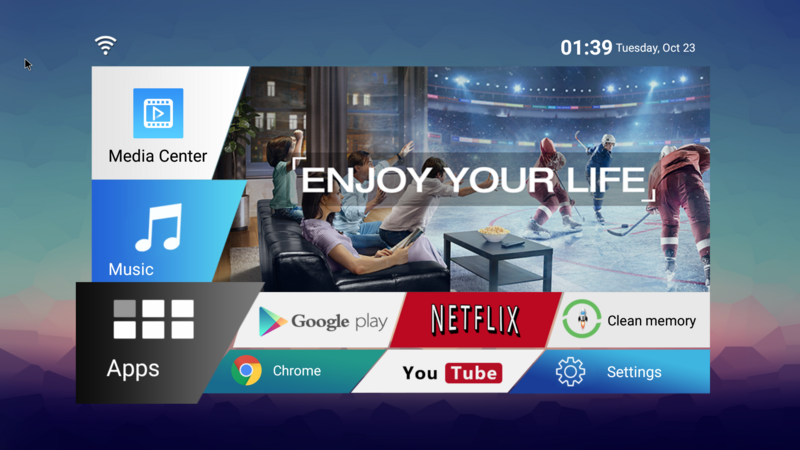 The T9 is running Android 8.1 and is doing the job so far,The device is also rooted.
A different looking UI to what we are used to that can be changed to some extent, like adding your own apps to the home screen.
Theres no crap installed just the basic stuff to get you going (App Draw below)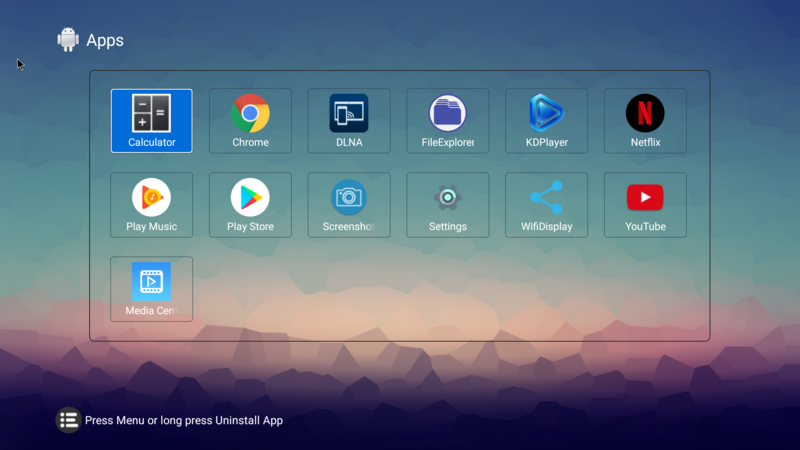 Chrome
KDPlayer (Kodi 18 beta)
Netflix
playstore
Youtube
Google play store is pre installed and working fine showing apps that i like to see on a tv box
Tested out KDPlayer crashed 3 or 4 times so removed that and installed kodi 17.6 Now kodi works great set up a good build and it is running very well even 4k seems ok but the device does get rather hot up to 92c showing on CPU Monitor.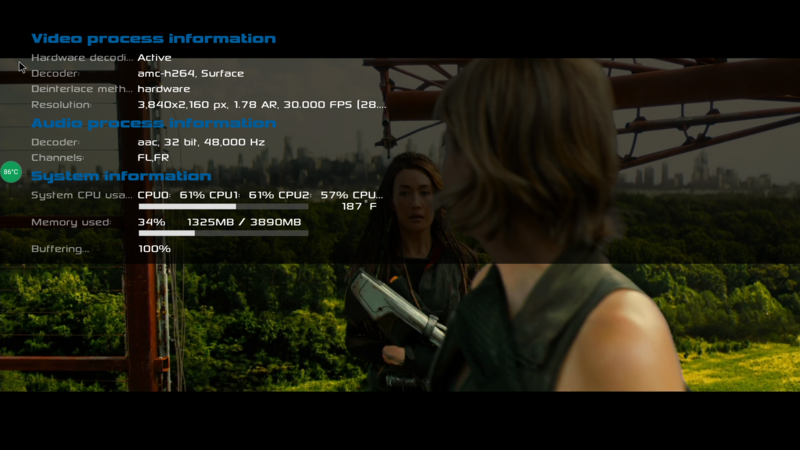 Netflix,All good there working fine.
Amazon Prime Video dont work.Installs ok but once you click on anything you want to watch it returns to the main menu.
Youtube,All good and working fine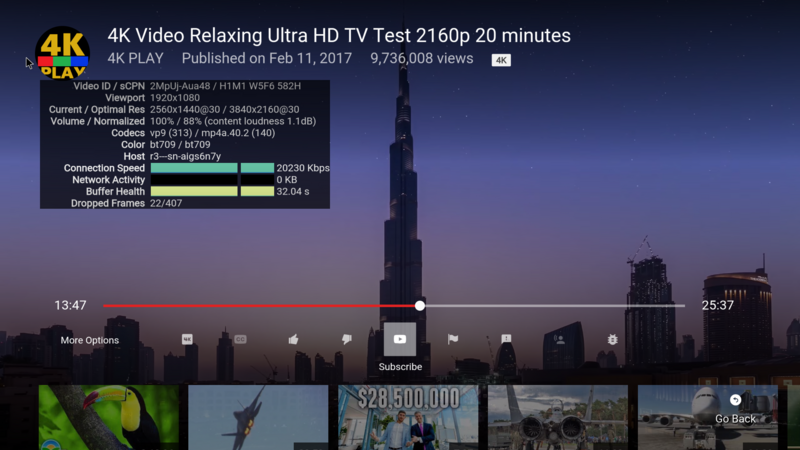 Some teck stuff
CPU Z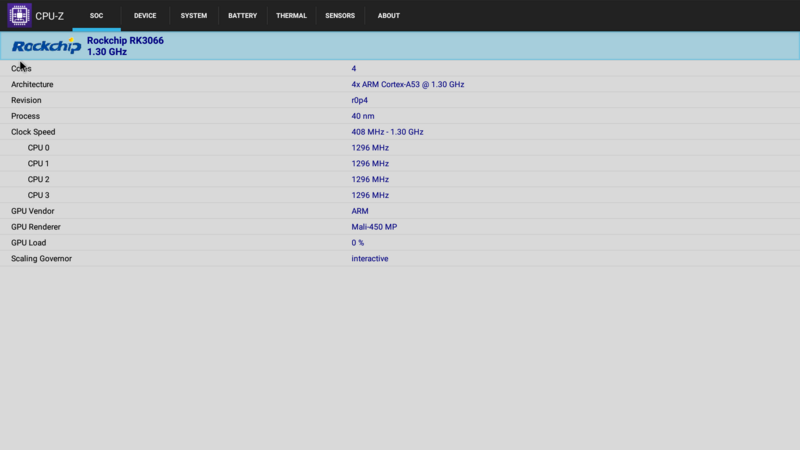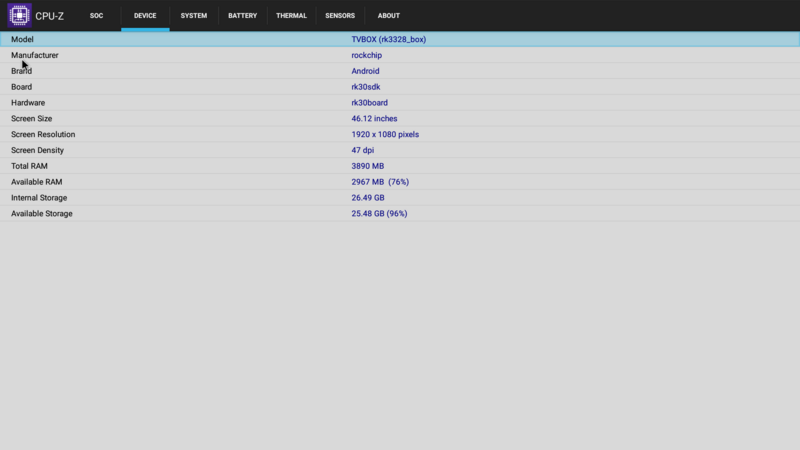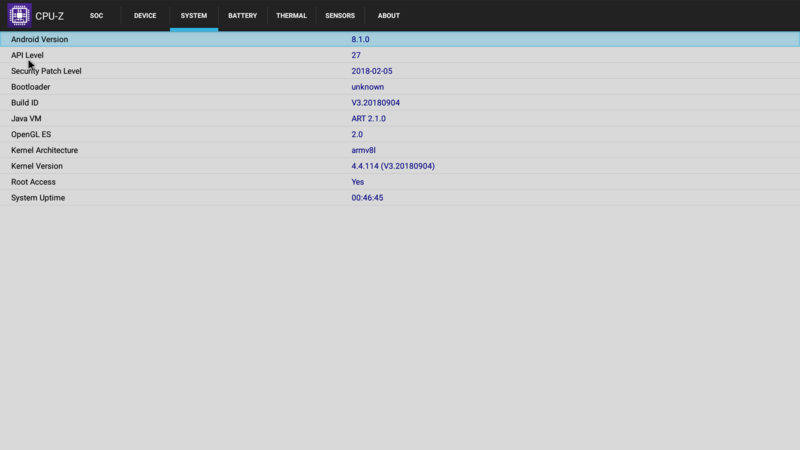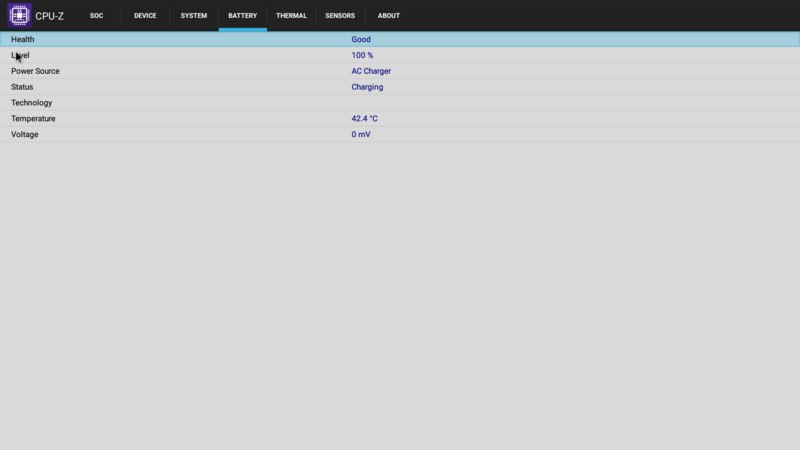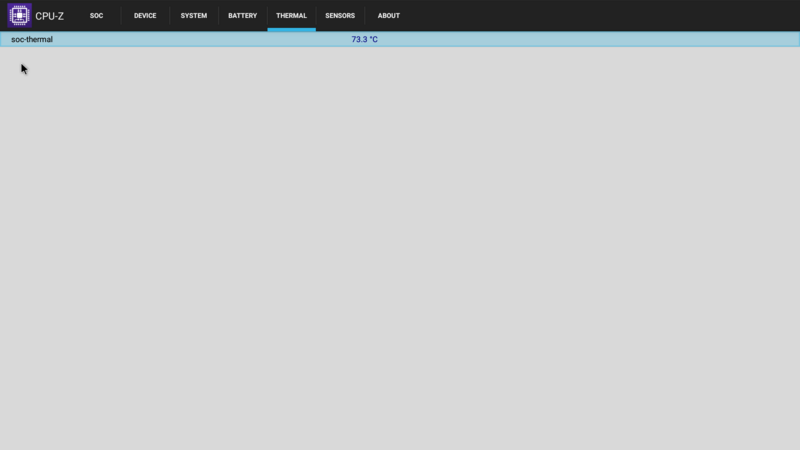 Antutu Bench mark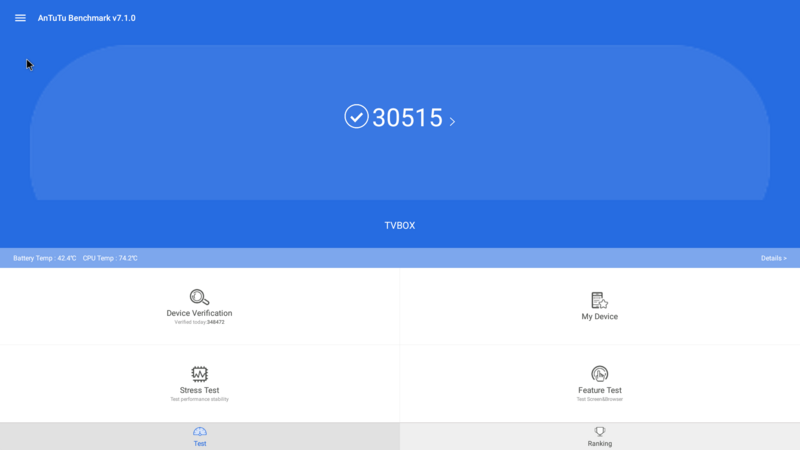 Antutu Video Tester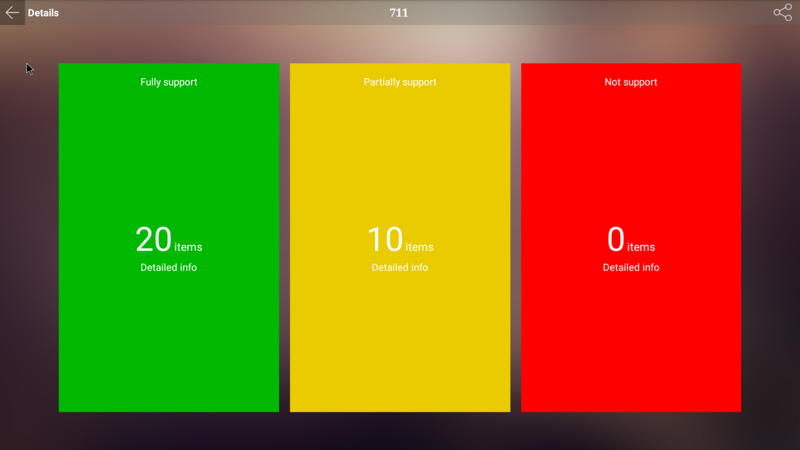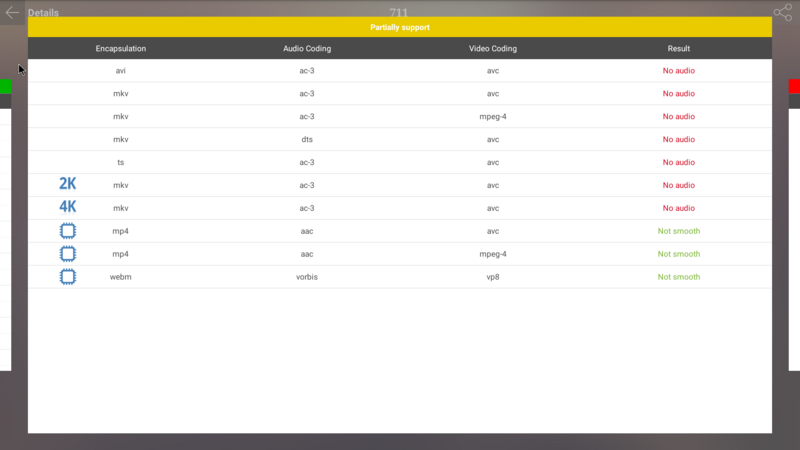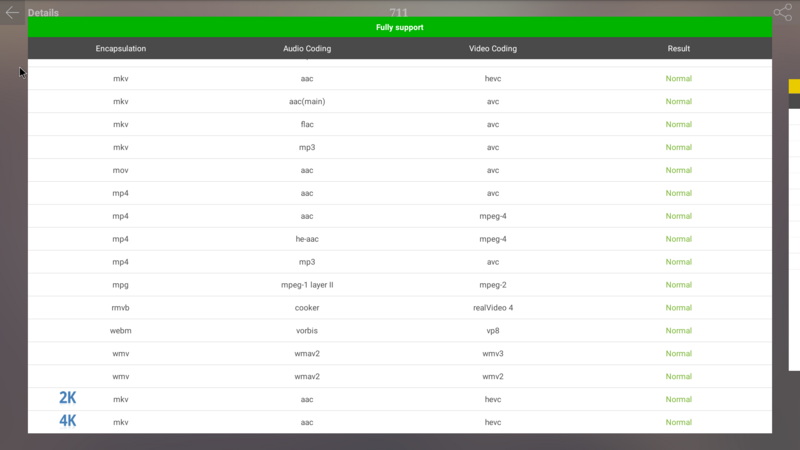 DRM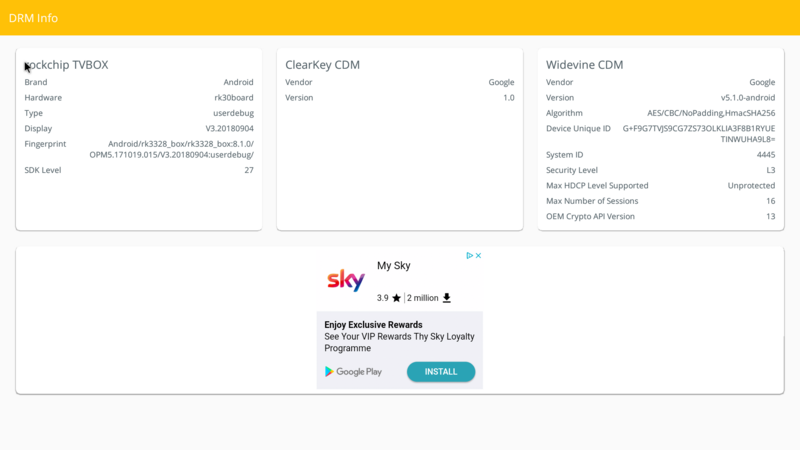 AIDA 64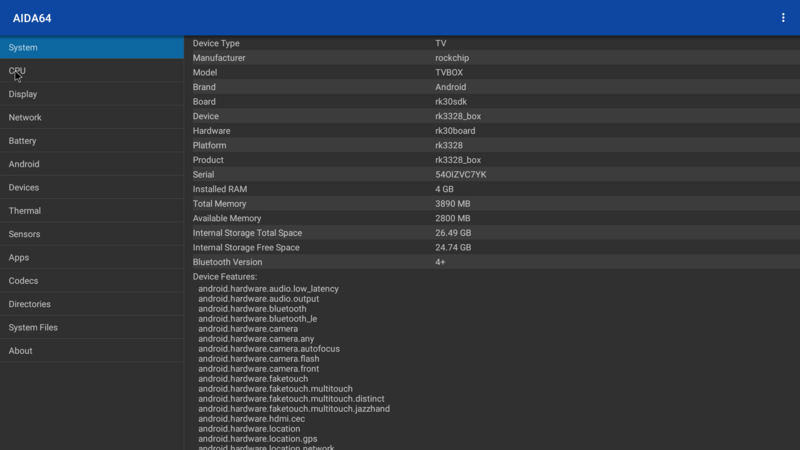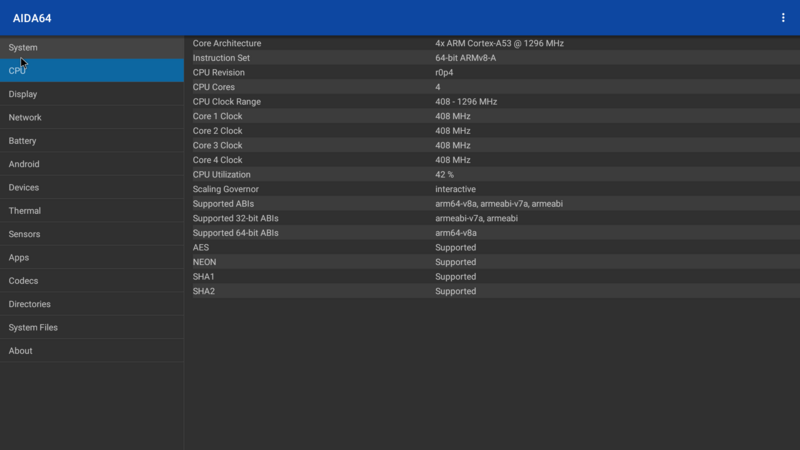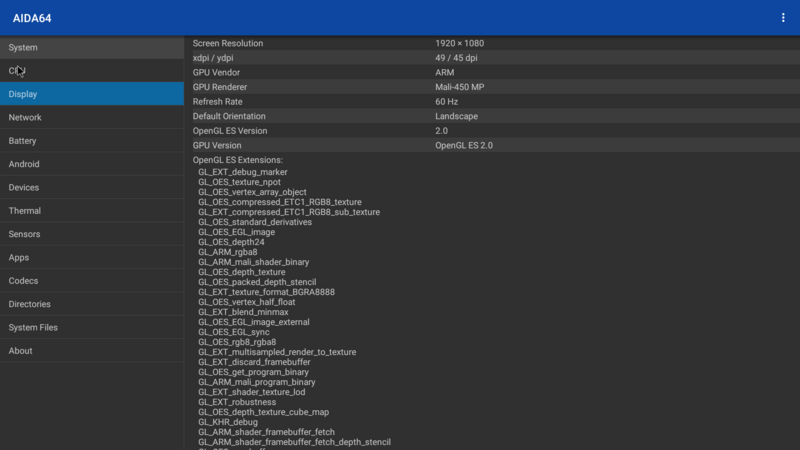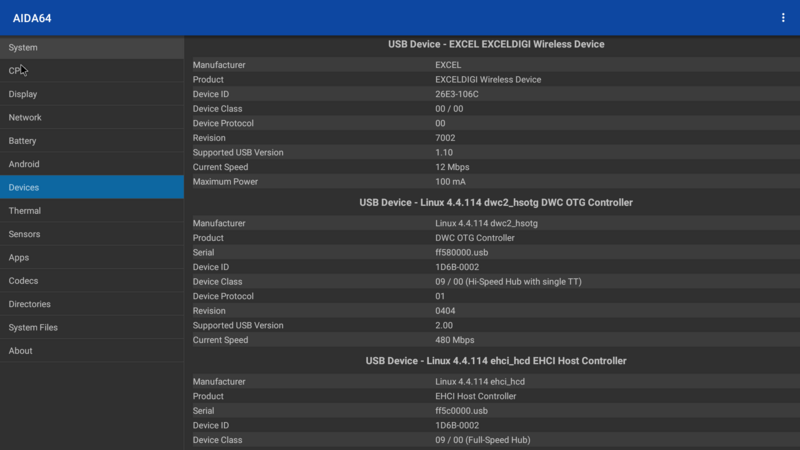 WIFI
My connection speed should be around 40MBPS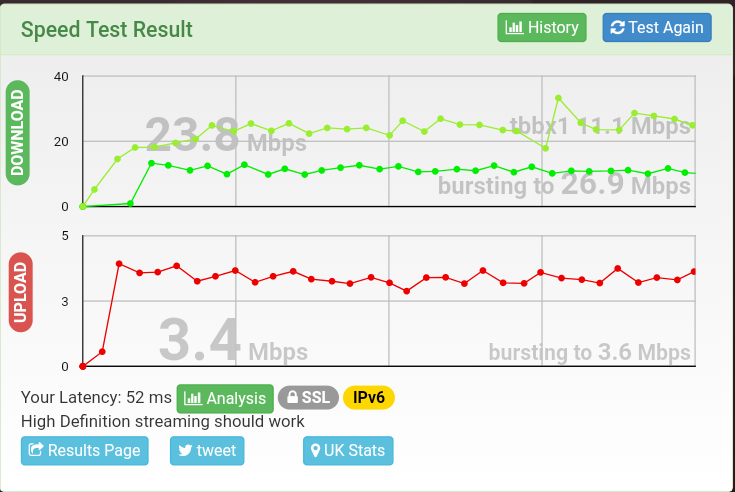 Now some games testing
Beach buggy blitz (Wont load)
Ashpalt 8 loads and plays ok
Ashpalt 9 (Wont load)
Sixaxis app (dont work)
Things tested
Logitech c230 (Dont work)
Sixaxis app (Dont work)
Samsung 1TB external HD (Works)
Tronsmart Mars G01 gamepad (Works)
32GB micro SD card (Works)
HDMI CEC (Works very well)
FIRMWARE
The device in this review came with FW V4.20180904 & this review is based on this FW
Below is a updated FW v4.20181018 (Tested and working fine)
FW
https://mega.nz/#!u3ZDkazS!DGHbow90znhYZKD8AWHUsteWq1mw8ztulCcavNh 9kPI
Driver assistant
https://chinagadgetsreviews.com/download-rockchip-driver-assistant-v4-5.html
RK factory tool
http://geekbuying.mediafire.com/file...yTool_v1.6.zip
The FW is very easy to flash as on most rockchip devices (No power lead is needed)
1.Download Fw to pc
2.install the rockchip driver assistant (Click uninstall driver first then install driver)
3.Install RK factory tool & run it with admin rights
4.Load FW into RK factory tool & press run
5.Locate and press recovery button on tv box
6.Connect USB lead to the USB port closest to the SD Card slot
7.Flashing will start if you have installed the drivers correct
FW Flashing video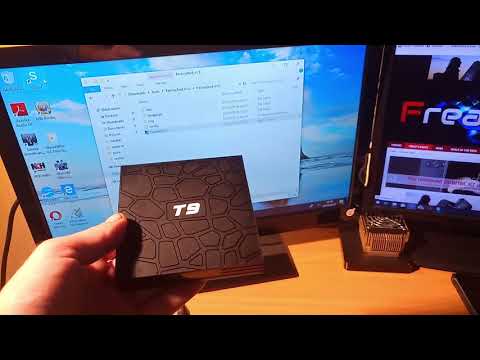 Model: T9
Type: TV Box
CPU: RK3328
Core: Cortex A53,Quad Core
GPU: Mali-450MP2
RAM: 4GB DDR3 SDRAM
ROM: 32GB eMMC
System: Android 8.1 Oreo
HDMI: HDMI 2.0 CEC, HDCP
WiFi: 2.4GHz 802.11 b/g/n
Lan: 100Mbps RJ45 Port
Bluetooth: Bluetooth: 4.0
USB Host: USB 2, support USB DISK and USB HDD
TF Card: Support TF Card supports up to 32GB. ( Not included)
SPDIF: SPDIF optical output
AV: Composite AV output
Mouse/ Keyboard: Support mouse and keyboard via USB; Support 2.4GHz wireless mouse and keyboard via 2.4GHz USB dongle, Bluetooth keyboard or mouse via Bluetooth. ( Not Included)
HDD file system: FAT16/FAT32/NTFS
3D: Hardware 3D graphics acceleration
Support Subtitle: SRT/SMI/SUB/SSA/IDX+USB
OSD type of languages: English/French/German/bish/Italian/ etc multilateral languages
Power Supply: DC 5V 2A
Power Consumption.: 10W
Power Type: External Power Adapter
Power Indicator (LED): Power ON Blue, sleep: Red
Media Supported
Decoder Format: H.265
Video format: 4K,ASF,AVI,DAT,FLV,ISO,MKV,MPEG,MPG,RM,RMVB,TS,VOB ,WMV
Audio format: AAC,AC3,APE,DDP,DTS,FLAC,HD,MP3,OGG,TrueHD,WAV,WMA
Photo Format: BMP,GIF,JPEG,PNG,TIFF
Interface: DC Power Port,HDMI,RJ45,SPDIF,USB2.0
Remote Controller Battery: 2 x AAA Battery ( not included )
Dimension and Weight
Product weight: 0.2000 kg
Package weight: 0.4500 kg
Product size (L x W x H): 11.50 x 11.50 x 2.20 cm / 4.53 x 4.53 x 0.87 inches
Package size (L x W x H): 43.50 x 30.50 x 30.00 cm / 17.13 x 12.01 x 11.81 inches
Package Contents:
1 x TV Box
1 x Remote Control
1 x Power Adapter
1 x HDMI Cable
1 x English Manual
Unboxing Video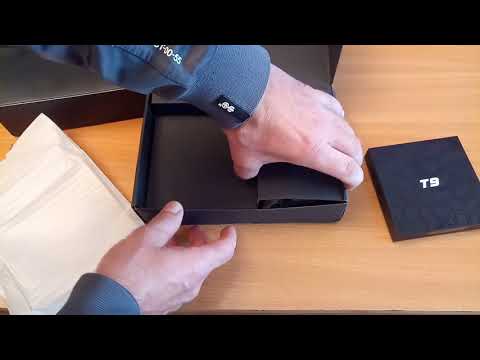 To purchase the T9 Look here
https://www.amazon.co.uk/dp/B07FYB2HK4
To view more Sunvell products look here
www.sunvell.com