VS AMLOGIC S905X4 TV BOX: ANY DIFFERENCES?
Amlogic S905X4 is an advanced application processor with support for the royalty-free AV1 video codec, specially designed for OTT/IPTV/Hybrid Set-Top Box(STB) and high-end media box applications.

Amlogic S905X4 Highlights
2GHz 64-bit quad-core ARM® Cortex™ A55 CPU

Supports OpenGL ES3.2, Vulkan1.1, and OpenCL2.0

AV1 video codec up to [email protected]

VAD, ASRC/EQ/DRC, 2xHiFi4 Acoustic/Audio DSP
Amlogic S905X4 integrates a powerful CPU/GPU subsystem, a secured 4K video codec engine, and an HDR image processing pipeline with all major peripherals to form the ultimate low power multimedia AP.

Amlogic S905X3 vs S905X4: Specifications
Amlogic S905X3 and Amlogic S905X4 are powerful chipsets featuring four Arm Cortex-A55 cores that have 15% to 20% performance improvement and simultaneously lower power consumption when using Android apps, navigating the UI and other day-to-day tasks than Cortex A53.

Amlogic S905X3 vs S905X4: AV1 Video Codecs

Video codecs serve one important task reducing the byte size of videos without drastically degrading their quality. Compared with Amlogic S905X3, S905X4 added the support for the royalty-free AV1 video codec. What is AV1? AOMedia Video 1 (AV1) is an open, royalty-free video coding format designed for video transmissions over the Internet, and the fact that it is open-source means it will not be plagued by the licensing issues that held back the adoption of the previous generation of HEVC technology.

AV1 video codecs that are said to be capable of boosting video efficiency by 20% or more than HEVC, and saving 30% more bandwidth efficiency compared to H.265 or VP9. Currently, the AV1 technology already has the support of many streaming services, including Netflix, Amazon Prime Video and YouTube.

All in all, there is no big difference between Amlogic S905X3 and S905X4 in terms of the TV box performance. Which one you should choose? It depends on your requirements and budget.
There haven't been too many Amlogic S905X4 Android TV boxes release, we launched two models based on it recently.

Amlogic S905X4 4K Android TV OTT Box Related Recommendation

* Brand New Design: DV8957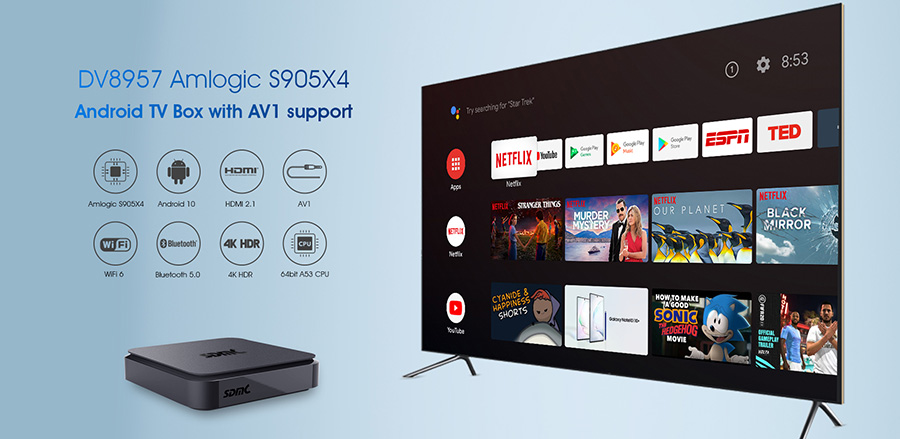 DV8957 has integrated the AV1 open-source codec, which is said to reduce 4K bandwidth requirements by around 20% in comparison to current proprietary HEVC devices. The Android TV box also features WiFi 6, which is the latest version of 802.11 technology, to ensure a fast and stable wireless connection for using other compatible devices.

Plus running on the latest Android TV 10.0 OS, DV8957 OTT box gives users access to 450,000+ movies and TV episodes via 5,000+ paid or free channels including YouTube, Prime Video and HBO, etc. It supports 4K Ultra HD resolution, along with HDR 10, HDR10+ and Dolby Vision, therefore operators can deliver 4K Ultra HD video to users for excellent viewing experience.

Classic Design: DV8919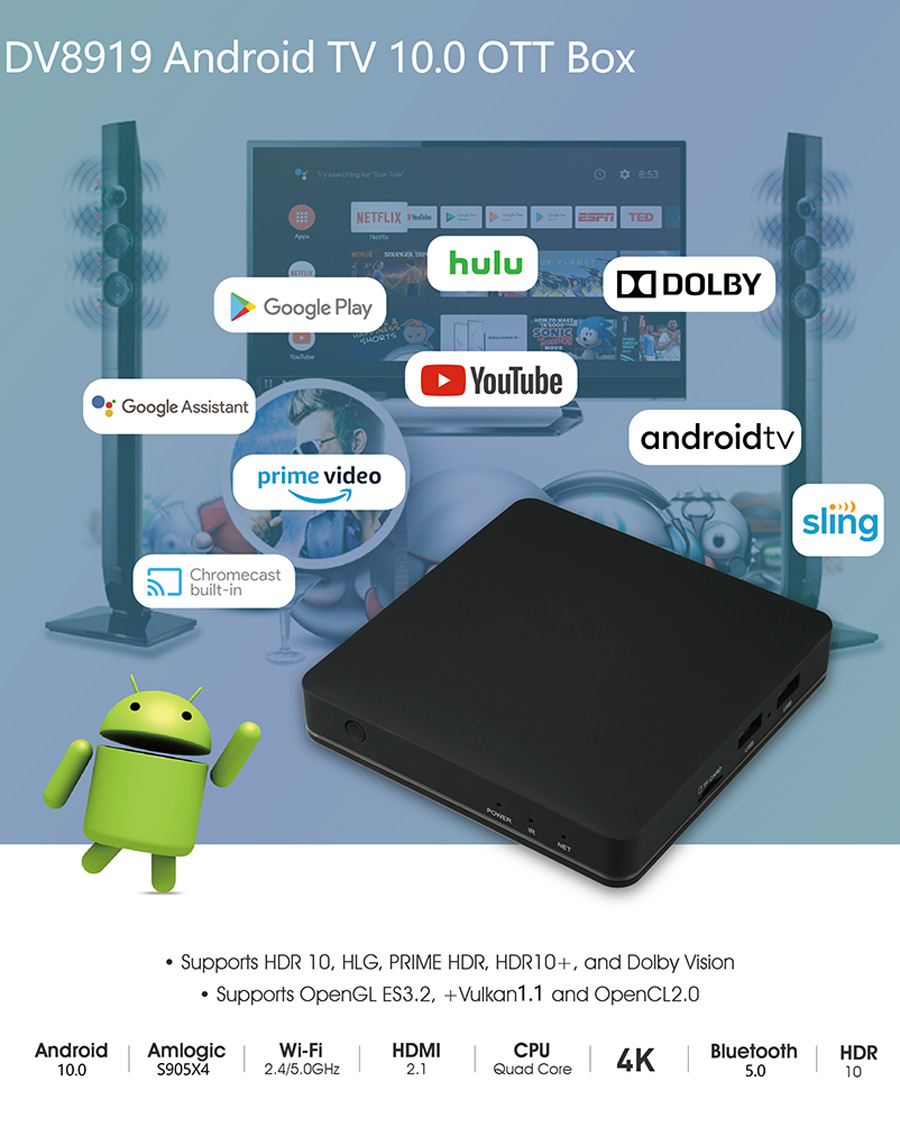 DV8919 is a high-performance Android TV box that comes with the innovative Amlogic S905X4 SoC and the latest OS 10.0, which offers excellent processing speed to ensure the smooth running of users'installed apps. It comes with 2GB RAM and 32GB eMMC that is capable of handling its memory requirements, so users can have a superb gaming experience on this TV box. Furthermore, with Google Assistant built-in, users can quickly ?nd the latest blockbuster and check the score of the big game only using their voice commands without leaving what they're watching.
Outstanding compatibility with games, apps, and software combines with user-friendliness, making this Android TV box one that's sure to gain plenty of fans.

If you are looking for Amlogic S905X4 Android TV boxes for your upcoming projects, welcome to contact us!
Source: https://en.sdmctech.com/news/product-news_1899.html