I got an EW902 from EWEAT for a review, thanks to Grace from EWEAT for the interesting
device and the fast delivery.

This thread should give you my first impression about the EW902 and some answers around
this TV-Box. I will test some things , but for sure not all you would like to have tested. Any
suggestions are always welcome and I will see, what I can do.

First surprise while unboxing the ew902 was the full metal design. The black box has a good
grip from the surface. I'm a bit exited what this Realtek based TV-Box can do, because it is my first one.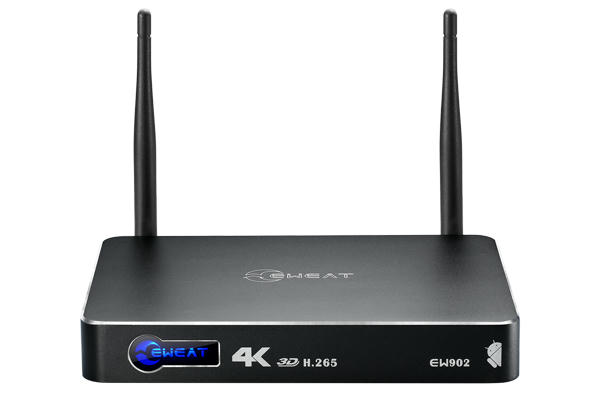 Content
-----------
1. Hardware Overview
2. First boot

3.
XBMC/Kodi and Video playing
4. Gaming

5. Performance

6.Connectivity
7. Resume
------------


1. Hardware Overview
--- Basics ---
Realtek 1195 chipset with duo core A7 CPU up to 1.5Ghz
Mali-400 MP2 GPU
1GB RAM
8 GB Nand flash
--- Connectivity ---
1xHDMI out
1xHDMI in
2xUSB 2.0
1xUSB 3.0
1xAV-Video/Audio
1xSATA
1x SD card slot
1xRestore button in the hole, besides the usb 3.0 port

Left
and Right panel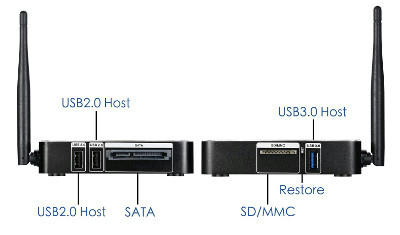 Back panel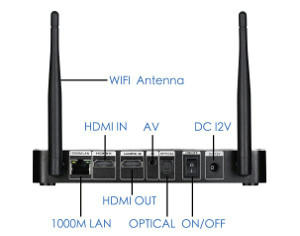 Unboxed: What comes with the EW902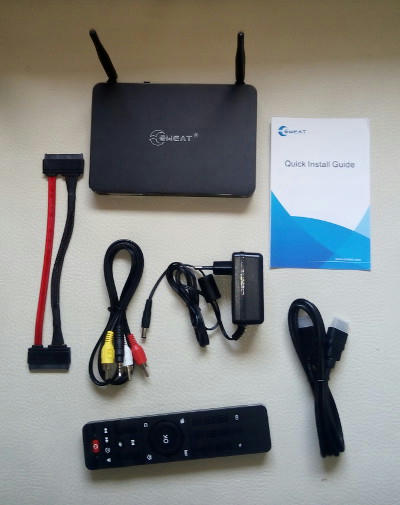 Inside the box --->Power supply, remote Control, HDMI-cable, AV-Cable, SATA cable and a
quick start guide


The technical details you will find on the EWEAT home page here.




2. First Boot
When you switch on the EW902, the EWEAT at the front show a blue backlight. Booting time
is about 20 seconds. The remote control has a good grip and reacts only when you hold in
direction of the TV-Player.
The box has an Android 4.4 firmware, with the standard apps except of Miracast, ES-explorer,
a Mediabrowser, FeedR and a special app for the HDMI in port. As browser you will have the
standard and the Chrom browser. As launcher they choose to install a TV-Box design for the
easy remote controlling. The Remote Control does the job to move through the system, but I
recommend an extro mouse/keyboard set, if you have more to type.
Before you install all your apps and accounts, I suggest to flash at first the newest firmware from
EWEAT homepage. There is an easy flash description. Please make sure, you don't use the
usb 3,0 port for the flash process, because it will not work. That was my first trial. :-)
The firmware comes fully rooted.




3. XBMC/Kodi and Video playing


After updating to the newest firmware, kodi works more or less stable for me. Full HD does run,
but kodi can't recognize it in the system. Stereo sound seems to be louder after the update.
The quality of audio sound for me regular good. The sharpness of screen play is better than
average and I had no flickering.
TV- streaming isn't problem at all, even the browsers can be used. VLC player can't player the
full hd videos, you need to go over the Media browser.
The box stays cool, while playing videos for 2 hours.
I leave the discussion about video formats and streaming files in details to the experts.




4. Gaming


I tried some games that need some power from the systems. All games with higher animation
quality begin to stutter. 3D benchmark show in test only 10fps. My android BTgamepad
controller would be recognized, but not supported. Small card and board games like
backgammon are working fine.




5. Performance


If you have some apps open, the system needs more time to switch between the apps. The
RAM is with 1GB limited. Kitkat has to clean the RAM more often.
Antutu benchmark shows around 12000 points. Thats really not a bad result for an duo core
system, but of course far behind quad core or octa core systems. An Allwinner A31 quad core
system by example will show from 13000 to 14000 points, an rk3188 quadcore will push antutu,
to 160000 points up to 20000 points.
You can't expect from a duo core not the resources to handle some apps at the same time. So
better close all the apps you don't need.
I tried by example to browse in the internet, while I listen to music from the local music player.
As a result I got sometimes a stuttering of the player. Not sure, if this can be fixed, but a duo
core should handle those to activities at the same time.




6.Connectivity


The EW902 is very good connected to the world outside over different choices.
I have plugged in a 1TB harddrive, a 2 TB external usb 3.0 harddrive, an usb 3.0 stick with 32
GB and a SD Card with 16 GB. They cooperate all together with transfer rates around 20MB
per second. I did expect more from SATA and USB 3.0, but even when I plugged a fast SSD
with 256 GB in the SATA port, I can't get more than 26MB/s transfer rate.
Grace from EWEAT confirmed that the transfer rate is limited to USB 2.0 speed.
Not forget to mention the very strong Gigabyte-LAN and WLAN with two Antennas as other
options to stream data in and out of the TV-Box.
--Test with the harddrive--
I have tested with an older 400 GB sata hd and a newer 1TB hd with copying a package with
about 20 GB (small files and large files up to 2GB)---> transfer rate max 22 MB/sec a new
seagate USB 3.0 disk and it needs about 15 minutes.
From USB 3.0 to sandisk ultra plus ssd disk I got the max. of 26MB per sec.




7. Resume


The EW902 has a lot of options. It t is good allrounder, a mini PC for watching TV, using internet with the browser or for EMails. I like all the connectivity for my music and video library
I would use it for this mix.
Maybe a small Linux setup would be a nice option.

---PLUS---
+Connectivity with SATA and USB 3.0
+Gigabit Lan
+double antenna WLan

---MINUS---
-only 1GB RAM
-hardware performance


JD