[ROM] Mod: HK1 X3 / H96 max X3 / VONTAR X3 / Transpeed X3 Air / Bqeel Y8 Max (Amlogic S905X3)
This mod is based on the Malay mod v1.2 . You can download the Malay mod (starts in Russian) from here :
https://yadi.sk/d/GWW_dL7anKvorA
The Malay mod is based on the original for HK1 X3 u
219.HK1_BOX_1000M_9.0.2020.01.13.12.35
What is Changed / Added
- In Settings you can now
enable/disable Status Bar & Navigation Bar
(photos 1,3)
-
TASKBAR
(as another Navigation Bar and much more…….)(Photo 4)
-
POWER SHADE
(as Notification Panel – give all the required permissions)
-
Square Home 3
(it is strongly advised to immediately use this launcher as default)
- PowerMenu (Photo 6)
- Root Explorer
- Landrive (as SMB server)
- EsFileExplorer
- MxPlayer
- Corrected the bug of "ENTER" when using external keyboard
- Deleted a couple of apps of russian interest/use
- The rom
starts and installs in ENGLISH by default
What was already in Malay's rom
-
Magisk
(permanent)(photo 5)
-
TWRP
(permanent)
-
Viper4FX
You can download the custom rom from here :
https://mega.nz/file/hhkH1aJL#0iWViz...YOPzNf7wpCdLdU
Some Photos of how the rom may look using Square Home 3 as default launcher :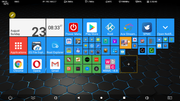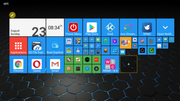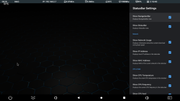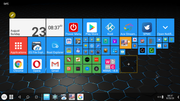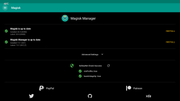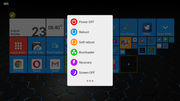 How to Install
- You can use a USBmale-USBmale cable and USB Burning Tool. If you don't have the cable you can easily make it by yourself, possibly using some old cables (from old smartphones etc). If you need USB Burning Tool you can download it from here :
https://mega.nz/file/E0MHyaDa#n5BHOV...RLgesKTiiuwFzY
After you install UBT you must copy the LICENCE directory
https://mega.nz/file/8lECwC4R#AcA4Cs...jaCaCMERrLq6pc
- You unrar the custom rom (to get the same name file as img), load it to UBT and press "Start"
- Connect one end of cable to USB port of PC and the other end to your port of the box (usually the 2.0 USB port and NOT the blue one which is 3.0). You must wait until 100% is reached and only then disconnect the cable. After starting the box you have to wait 4-5 minutes for everything to be installed.
In case that "burning" does not start, you must repeat the same procedure but additionally pressing the "Reset" button (gently pressing it in the center of AV port) for 2-3 seconds.
- Instead of UBT you can install the rom using an
sd card and Burn Card Maker
(instructions at Post #149)
NOTE 1:
For anybody that would like to try other roms (mine or other custom roms) it is a good practice to first make a Backup of their partitions with a NOT permanent TWRP. It is easily made as I say here:
https://forum.freaktab.com/forum/tv-...e16#post812426
You have to backup at least Boot, System, Vendor and your Data partitions.
NOTE 2:
If you have any problem with Play Store (not updating etc) see Post #95
NOTE 3: Rom for H96 max X3 with

Blue Board

and wifi chip IT6334 .
:
https://forum.freaktab.com/forum/tv-...880#post816880
EDIT: If you have an H96 max X3 with Blue Board the only way to know what wifi chip you have (6330 or 6334) is to open it. If you don't want to open it, please initially try the most general version of this rom(for all boxes). Only if you don't have wifi/BT (which will mean you actually have IT6334) you can use this special build for IT6334. English version for
IT6334 :
https://mega.nz/file/loFllYBC#LODz-AvZhotR1rN46duz57Mv7EYSaU-axidS7KLMgZg